Meet Evan W. Richards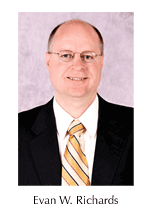 Evan W. Richards
Mr. Richards brings to your facility a wide variety of knowledge with focused experience in the area of marketing, sales and business management. He was born in Provo Utah, is married—has seven children—and currently resides in Saratoga Springs, Utah.
Mr. Richards began his entrepreneurial career in 1979 as a professional trainer for a newly developed personal enhancement program originating at Brigham Young University in Provo, Utah. Over the next fifteen years Mr. Richards, owned and operated three more training centers in Utah valley, implementing his acquired specialized skills, principles and mind-sets as they related to the area of personal and professional enhancement concepts' and strategies.
From 1979 to 1994 Mr. Richards continued to successfully offer his specialized, educational and motivational training programs to many thousands of individuals on a national level via personal one-on-one instruction, workshops, community education programs, youth, civic and church groups as well as local school districts.
While teaching, Mr. Richards placed a heavy emphasis on prioritizing, goal setting and achieving, taking action, follow-up and follow-through, adaptation and utilization, achieving continual, positive and measurable results by maintaining a clearly focused objective of specifically desired outcomes.
In 1994 Mr. Richards sold his training centers, spending the next five years working in sales, consulting and marketing for such companies as iMall, Galaxy Mall, Internet Development Inc., and Peter Lowe International.  It was here where he fine-tuned his professional skills working extensively in training, coaching and sales on a national basis, and assisting other entrepreneurial-minded individuals with the "how-to's" of obtaining better results in their own personal and professional lives.
He has marketed and sold personal development training programs for Peter Lowe International Seminars, Inc., and internationally acclaimed Denis Waitley, with course tuition prices in the three thousand dollar range.
Mr. Richards has extensively studied marketing, sales and behavior modification for personal life enhancement. He has consistently and successfully developed sales & marketing systems that have generated as much as fifty-thousand dollars to one-hundred eighty-thousand dollars per sale—all through direct-response marketing.
From 1999 to date, Mr. Richards has instructed a wide variety of individuals including CEOs, entrepreneurs and professionals providing personal and financial success strategies through more than fifty thousand one-on-one training sessions on a national basis.