Meet the Staff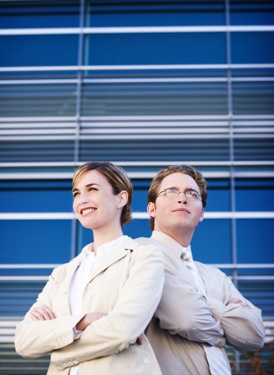 PROVEN LEADERSHIP & MARKETING SUCCESS
As a proven leader in providing results-oriented, performance-driven marketing to the world of commerce, EVOLOCITY is headed by an aggressive and experienced management, training, technical and marketing team with specific expertise in marketing, commerce, vendor relations, finance, sales and business related technology including:
Strong leadership, with literally hundreds of years of combined and successful business experience.
A highly trained professional staff that is market-driven, adaptive to the marketplace and responsive to the field.
Cutting edge technology including; communications and servers.
Unique one-of-a-kind turnkey systems enabling businesses and individuals to generate a far greater return on their marketing dollar.
Additionally, EVOLOCITY's Management team is skilled in negotiating, creating strategic alliances with other accentuating-types of businesses and able to work together as a team—decision-wise, and implementation-wise—in the fast-paced, ever-changing arena of local, national and global commerce.

MANAGEMENT AND STAFFING
- Background and Qualifications of Key Players -
Meet the Staff
Evan W. Richards - Owner/Marketer
Mr. Richards brings to your facility a wide variety of knowledge with focused experience in the area of marketing, sales and business management. He was born in Provo Utah, is married—has seven children—and currently resides in Saratoga Springs, Utah. Mr. Richards began his entrepreneurial career in 1979 as a professional trainer for a newly developed personal enhancement program originating at Brigham Young University in Provo, Utah. Over the next fifteen years Mr. Richards, owned and operated three more training centers in Utah valley, implementing his acquired specialized skills, principles and mind-sets as they related to the area of personal and professional enhancement concepts' and strategies.
From 1979 to 1994 Mr. Richards continued to successfully offer his specialized, educational and motivational training programs to many thousands of individuals on a national level via personal one-on-one instruction, workshops, community education programs, youth, civic and church groups as well as local school districts. While teaching, Mr. Richards placed a heavy emphasis on prioritizing, goal setting and achieving, taking action, follow-up and follow-through, adaptation and utilization, achieving continual, positive and measurable results by maintaining a clearly focused objective of specifically desired outcomes.
In 1994 Mr. Richards sold his training centers, spending the next five years working in sales, consulting and marketing for such companies as iMall, Galaxy Mall, Internet Development Inc., and Peter Lowe International. It was here where he fine-tuned his professional skills working extensively in training, coaching and sales on a national basis, and assisting other entrepreneurial-minded individuals with the "how-to's" of obtaining better results in their own personal and professional lives.
He has marketed and sold personal development training programs for Peter Lowe International Seminars, Inc., and internationally acclaimed Denis Waitley, with course tuition prices in the three thousand dollar range.
Mr. Richards has extensively studied marketing, sales and behavior modification for personal life enhancement. He has consistently and successfully developed sales & marketing systems that have generated as much as fifty-thousand dollars to one-hundred eighty-thousand dollars per sale—all through direct-response marketing.
From 1999 to date, Mr. Richards has instructed a wide variety of individuals including CEOs, entrepreneurs and professionals providing personal and financial success strategies through more than fifty thousand one-on-one training sessions on a national basis.
Lilly Suteerachai – President
Lilly Suteerachai comes to EVOLOCITY originally from Thailand, where she graduated with a Bachelor's Degree in Accounting from Chulalongkorn University in Bangkok—the most prestigious university in Thailand.
While in Thailand, Lilly worked for the Teerachai Trust Corporation, a family owned multi-million dollar national financing company where she specialized in internal auditing. She also worked extensively as a loan officer for the Union Bank of Bangkok, a national multi-billion dollar bank. She analyzed the financial statements, marketing strategies, cash flow, as well as the management structure of companies. She approved commercial loans ranging from twenty million dollars to as much as one hundred million dollars.
Lilly came to the United Stated to continue her education by enrolling in the George Washington University where she graduated in 1997 with a Master of Science in Finance. Over the next several years, Lilly utilized her skills of financial analysis in the area of technical and fundamental aspects of investing, particularly in relation to equity and options investing. She personally participates in medium and long-term investing, as well as teaching others the fundamentals of investing.
Lilly is married, resides in Orem, Utah and brings a high degree of experience, specialized knowledge and practical business/financial sense to the EVOLOCITY team.


Scott R. Hosking – Marketing ("It's All About Marketing")
Scott has engineered a successful career in marketing, sales and business development, both domestically and internationally.
For over twelve years of his professional career he focused primarily on the development and marketing of foreign business opportunities and key relationships. During this time he founded and served as President and Director General of Pizza Caribe S.A. de C.V. in Mexico. This company was largely responsible for the meteoric growth of an international pizza franchise company in Mexico. Pizza Caribe owned and developed its own stores, as well as located and facilitated the sell of franchises to other prospective franchisees. The rapid growth was a result of area development contracts that were put in place with key interested and qualified parties.
Simultaneously, Mr. Hosking created Distribuadora, a food and restaurant supply company that imported and exported food and supplies to the country of Mexico. This company eventually became the regional commissary for the parent pizza franchise company.
During this time he also assisted his wife, who owned and operated Amigo Tours Cancun, and Prometora Yucatan, two successful tour companies on the Yucatan Peninsula.
Additional he was chosen to represent and market such companies as Diners Club, Morris Travel, Promettra, Fast Delivery, Domino's Pizza International, Health Rider, Club America Vacations and Helicopteros Caribe in Mexico. He also participated in various other sundry business ventures.
Domestically, Mr. Hosking created the economic investment model known as "MoneyMax". This economic model has stood the test of time and has been the basis for creating personal investment strategies for thousands of people.
He has lectured extensively in the United States on the economics of personal investing. His seminars on debt elimination, and personal wealth creation investment strategies, have helped countless families improve their personal financial situations.
His career is diverse and includes serving as the CFO of two aviation companies, the writing and teaching of entrepreneurial curriculum at the College of Eastern Utah, San Juan Campus, and the successful return to profitability of an herbal remedy company that needed a new image and marketing strategy, to name just a few. Recently, Mr. Hosking has taken his vast marketing and business development experience and combined forces with EVOLOCITY.
EVOLOCITY is an innovative marketing company, created with the expressed purpose of assisting Chiropractors develop and implement marketing strategies that will find new clients and retain existing ones.
Mr. Hosking has a philosophy about business that is straight forward and simple – "It's All About Marketing". Nobody really cares how great you are or how wonderful your products and services may be, until they understand "WIFT". My Job is to help your potential clients and life-time customers clearly understand - What's In It For Them.
Throughout his business career he has managed to find the time to be deeply involved in numerous church and civic projects, as well as the lives of his family.
Joe Rowberry - VP Sales
Joe Rowberry brings a wealth of experience and personal success in sales and marketing along with his abilities to build strong, successful sales teams to EVOLOCITY. He was a significant factor to the success that both Denis Waitley and Zig Ziglar have enjoyed in the development and marketing of their personal/professional coaching programs. Marc Garrison, a nationally-known real estate guru, publisher and speaker has worked closely with Mr. Rowberry over the years in the successful marketing and promotion of his Real Estate Education and Buying Seminars. As a strong leader, trainer and gifted salesman, Mr. Rowberry pulls together a dynamic team of sales people committed to assisting EVOLOCITY clients to take action to acquire the knowledge, skills and long-term motivation to achieve their own financial dreams.